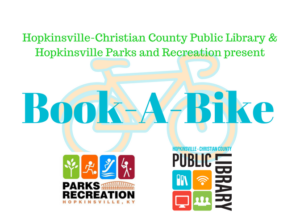 You can rent a bike from the library! In partnership with Parks and Recreation, we're offering the Book-A-Bike program. Adult, youth, and training wheel bikes are available. Helmets are also available upon request.
When?
Bikes are available during regular library operating hours. They must be returned by 1 hour before close on the day you check the bike out.
Where?
Check the bike out at the library front desk. Then you can ride it all over Hopkinsville! The Hopkinsville Greenway is conveniently located right by the library and is an excellent place to ride.
You can also check out bikes at Planters Bank-Jennie Stuart Health Sportsplex Hopkinsville and the Hopkinsville Visitor's Center. Hours vary at each location.
Cost?
With a library card, each bike costs $1.00. You can rent 2 bikes. Without a library card, each bike costs $5.00.